I love unusual ways to make extra money while still maintaining the freedom that comes with Independent Contractor status. DoorDash was founded in 2013 with a mission to support local economies. They partner with local restaurants that may not be able to offer delivery service on their own and contract with local freelancers to make those food deliveries.
Moonlighting with an opportunity like DoorDash can be a great way to earn some extra cash. Not only that, there are some other great benefits as well.
5 Reasons Moonlighting Can Be Good for Your Career
In a tough economy, many workers find it harder and harder to make ends meet. Some even consider taking on a part-time job or joining the sharing economy to make extra money.
Even so, there is a lingering doubt on the part of many professionals that moonlighting will hurt their careers in the long run. As a result, many professional men and women miss out on not only extra money but a treasure trove of new skills and experiences.
Far from being career killers, moonlighting can actually be good for your chosen profession. Here are five reasons why moonlighting could be a boon for your career as well as your wallet.
#1. A Side Gig Allows You to Learn New Skills
When you were hired, your boss picked you for the skills you already had, but learning new skills can help you advance in your career. The skills you need to move up the corporate ladder are not necessarily the ones you learned in college or on the job, but the right side hustle could expand your mind and your opportunities.
Consider the case of many rideshare and delivery drivers. After putting career worries to rest, they take on a role of a chauffeur or deliveryperson in this unique opportunity, gaining confidence, boosting communication skills and generally having a great time. When you return to the office, you find that newfound confidence and finely-honed communication skills have made you a much better employee at your day job. And for many of the drivers I have met over the years, this first taste of independent contractor status motivates them to pursue even more entrepreneurial endeavors.
#2. An Expanded Network
An extensive network is a boon for job seekers, but it is also a powerful tool for the already employed. Taking on a side gig or moonlighting with a part-time job allows workers to meet with more people, expanding their networks and potentially enhancing their careers in the process.
Think of the corporate worker who moonlights as a driver for a service like DoorDash or Uber. That worker never knows who will be waiting by the curb – it could be a drunk college kid or a corporate executive in town for a conference. With a little bit of engagement and some friendly banter, a smart driver could expand their opportunities and maybe even land a great new job. My husband and I have exchanged business cards with rideshare drivers on more than one occasion when we travel.
#3. New People Skills
While career experts and the news media focus on technical skills, so-called soft skills are always in high demand. The ability to communicate, a friendly nature and strong people skills will always be valuable in the workplace, and a side gig can help workers hone those skills.
Just about every side hustle, whether it takes place on the internet or in the real world, requires a variety of soft skills. As a driver, you need to be friendly and outgoing. You also need to deal with clients in a professional manner. The development of these soft skills is one of the most under-appreciated benefits of moonlighting.
#4. Income Diversification
Diversification of income has never been more important, and taking a variety of side gigs and moonlighting roles can put that diversification into high gear. Having more than one way to bring in extra cash means less reliance on your full-time job, but it also gives you a level of confidence and freedom.
Workers who are able to create multiple income streams can also protect themselves when the economy turns sour. Workers may not have control over the business cycle, but they can carve out their own niches and find creative new ways to make money.
#5. More Freedom at Your Full-Time Job
Last but not least, moonlighting can give workers a new level of freedom in their full-time jobs. Making money outside their full-time jobs can make those workers less reliant on a single source of income, and that has a number of important benefits.
For workers who hate their full-time jobs, using a side hustle to learn new skills could lead to an exciting new opportunity. The income from those gigs could also make a job change simpler, easing the financial burden and smoothing the transition to a new and better career. Even for workers who are happy in their full-time jobs, having other irons in the fire can provide additional freedom and flexibility and reduce the stress they might otherwise feel.
If you have been reluctant to moonlight out of concern for your full-time job, you might want to rethink your assumptions. Far from being bad for your long-time career prospects, taking on a part-time job or side hustle could actually help you do your job better. And DoorDash may be just that opportunity!
How Does DoorDash Work?
Once hired as a "Dasher," you will be able to sign up for available shifts in your desired location – DoorDash is currently available in many major cities. During your shift, you may be assigned to wait near a partner restaurant for orders to roll in. Once an order is placed, you are dispatched to make that delivery.
Pay can sometimes vary by location. Currently, Dashers are paid $1 per delivery plus tips. "Drive" orders, which are larger orders that may take more time to complete, pay a higher rate in many locations. The site lists rates for each market, so check there first for the latest listings.
This post was published in 2015. When the app first came online, rates were much higher. On occasion, guaranteed incentive pay will be offered. Those announcements will be sent to Dashers via the app, text or email. Read those details! Incentives may require you to accept all orders, check in on time, or do a specified number of dashes. Keep in mind, as an Independent Contractor, you are responsible for gas and maintenance of your vehicle. Always consider your expenses in relation to the pay.
Today we have the pleasure of having Maria Salazar stopping over to share her DoorDash review and how she is making money as a food delivery driver at the company.
What was your motivation to become a DoorDash Driver?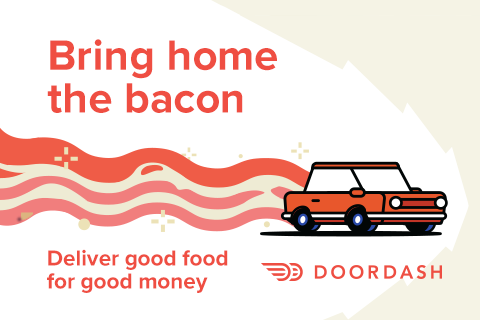 I have 3 children and 2 grandchildren. Not wanting to miss any moment in my kids life I decided to be a stay at home mom and for the past 6 years I have enjoyed it, but like everything my joy came to an end when they started to go to school full time and that is when I decided I needed to do something while they were in school.
I started searching until I found DoorDash, I read about it and I put my name and number and the next day I received a call from Mike Henry to conduct a phone interview, I sent him all of my paperwork and we scheduled orientation, I went to the office and the more I sat there and listen to Mike the more I felt DoorDash would be a great fit for me.
I took the job and I started with them since day one, it was the best decision of my life, I don't consider them as a job but as my family because that is how I get treated.
Tell us about a typical day in the life of a Dasher.
I get to pick my own hours, the days I want to work, the area I want to be at. I work the morning from 11:00 to 2:30 and then again the afternoon from 4:30 to 9:30 or depending on the homework load my kids have.
How and when do you get paid?
I get paid every Tuesday for what I worked from the previous week. We get paid per delivery plus 100% of our tips. "Pay boosts" and guaranteed pay offers are also sometimes available.
Safety is always a concern. Would you recommend this gig to your female friends?
DoorDash is very safe to work for, I have never had any problems or heard of anyone having any kind of safety issues, we don't carry any cash with us and all of our customers are very nice. I definitely recommend Door Dash to all of my female friends.
What tips do you have for those wanting to join DoorDash?
The tips I can give our future Dashers is always have a smile on your face no matter how rough it gets, be kind and friendly to everyone you come across; restaurant staff, doormen, valet parkers, even the police trust me. The friendlier you are the easier your job will be. Be nice and courteous and always keep an open communication with your Manager. DoorDash is one big happy family and I am very thankful to Mike Henry for giving me the opportunity to become part of it.
And make sure you have a good bookkeeping system in place. A tool like Hurdlr can help you easily track your income, expenses and mileage for tax reporting.
DoorDash is currently operating in over 50 US cities. Visit the site to learn more about this opportunity.
Looking for more opportunities like this one? Check out Uber, UberEats, and Amazon Flex.